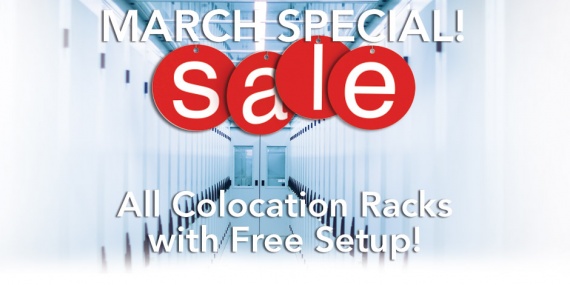 1. March Special
All colocation racks with free setup!
Hetzner Online provides you with trouble-free and cost-efficient housing of your individual systems in a separate-for-you colocation rack in its state-of-the-art and energy-efficient Colocation Centers located in Nuremberg and Falkenstein.
Save up to € 251.26 when ordering in March, for Hetzner Online is waiving the usual setup fee!
For an overview of all prices and features, please see:
www.hetzner.de/us/hosting/produktmatrix/racks
Price plus VAT, if applicable.
2. New Top Level Domains
Further new top level domains available to order!
Further interesting top level domains (TLDs) can now be ordered via the Hetzner Online konsoleH administration interface. The following new domains are available:
€ 2.44 per year: .work (Ordering tip!)
€ 4.12 per year: .casa
€ 10.00 per year: .space
€ 20.92 per year: .rip
€ 26.81 per year: .band
€ 32.77 per year: .brussels, .forsale, .party, .vlaanderen, .yoga
€ 57.98 per year: .delivery
€ 83.19 per year: .cricket
€ 108.40 per year: .energy
For an overview of all domains currently offered, please see:
www.hetzner.de/us/hosting/domains/domainregistrierung
Price plus VAT, if applicable.
3. New Image
New image: Ubuntu 14.04.2
The point release of Ubuntu 14.04.2 again includes an LTS Hardware EnablementStack (HWE) for better support of new hardware in the Ubuntu LTS release.
This includes a more recent kernel (3.16) and the X.org stack from Ubuntu 14.10. Clients who would like to use the HWE stack can install this via APT:
apt-get install --install-recommends linux-generic-lts-utopic
Please note that support for Ubuntu 14.10 expires three months after the release of Ubuntu 15.04. After this, a switch to the kernel/X.org stack of 15.04 is necessary with the same nine-month support period to January 2016.
The release notes are available at:
For more information about the LTS Hardware Enablement Stack, please see:
wiki.ubuntu.com/Kernel/LTSEnablementStack
4. Did you know?
Information on email notification to domain holder
Hetzner Online is obliged by the central domain registration authority or registrars to inform domain holders of .com, .net, .org, .info, .biz and the new top level domains, for example, if a domain has reached its expiry date. This email is automatically sent as «White Label» to the domain holder even if the domain holder is not a direct customer of Hetzner Online. This message is for information only and requires no further action, if the domain is continued, as Hetzner Online automatically extend domain usage.
Further information about this can be found at: wiki.hetzner.de/index.php/ERRP/en
Our complete range of products can be found at www.hetzner.de/us.
Should you have any questions, our support team will be happy to assist. Simply visit the Hetzner Support Center at: www.hetzner.de/us/hosting/kontakt/support-center