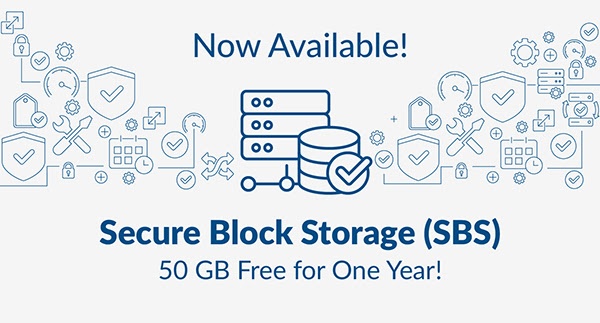 Secure, highly available, and scalable additional storage
We are excited to introduce Secure Block Storage (SBS) volumes, enabling you to easily attach additional storage to your Cloud Servers.
Volumes are replicated multiple times to protect your data from component failure, can be scaled on-the-fly, moved between Cloud Servers within the same region, and are automatically encrypted to ensure a secure environment for your data. SBS provides the ideal scalable storage for your files, databases, application data, and backups.
To help you get started using SBS, we are offering 50 GB of SBS free for one year. Each additional GB of SBS is just 7.9 cents per GB per month.
You have full control to build and scale your larger applications and storage needs, with automatic encryption, a simple pricing model, and 11x the performance of other providers.
Following the release of SBS, we plan to roll out SBS based snapshots, backup, off-site replication, and object storage in the coming months.
For more information on SBS, please visit
www.atlantic.net/cloud-hosting/block-storage/
To get started with your free 50 GB, simply log into the Cloud Control Panel and begin using SBS!