We are thrilled to announce that the Workload Intensive Cloud Servers are now available in Amsterdam. We're also officially ending the preview phase and entering General Availability on this server range.
These new servers are the most powerful in our lineup thanks to their Intel Xeon SoCs and DDR4 memory. With up to 120GB of RAM and 12 Xeon cores, you can now run all your memory and compute intensive workloads directly on Scaleway, starting at €24.99/mo:
X64-15GB — 6 x64 cores — 15GB Memory — €24.99/mo
X64-30GB — 8 x64 cores — 30GB Memory — €49.99/mo
X64-60GB — 10 x64 cores — 60GB Memory — €89.99/mo
X64-120GB — 12 x64 cores — 120GB Memory — €179.99/mo
The Workload Intensive servers are available with the same pricing as during the preview. As all our cloud servers, they benefit from unlimited transfer and you're billed by the hour up to a monthly cap of 500 hours.
If you wish to deploy 100s, 1000s or even more servers, let us know, we will increase your limits!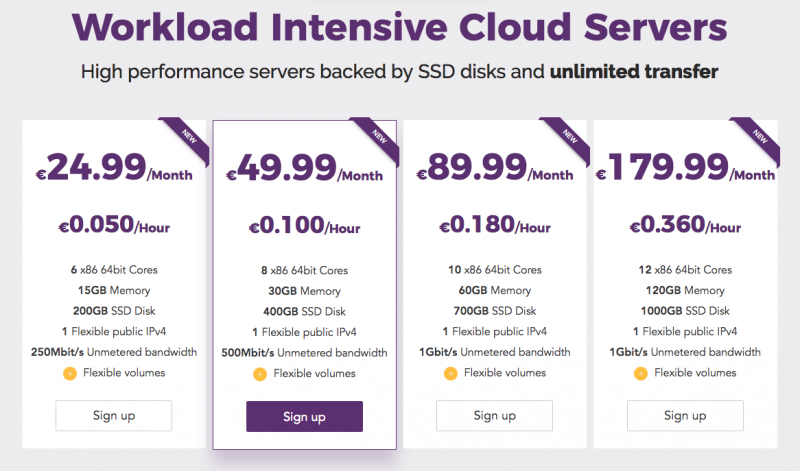 blog.online.net/2017/04/18/scaleway-workload-intensive-servers-available-in-amsterdam/
Amsterdam network upgrade
Last week, we increased the AMS1 network backbone capacity to support the new Workload Intensive Servers. After an upgrade of our core routers, we've added 200gb/s of network capacity: 100gb/s to AMX-IX and 100gb/s with Level3. We now have a total capacity of 800Gb/s in AMS1 allowing us to deliver a robust and reliable local connectivity.